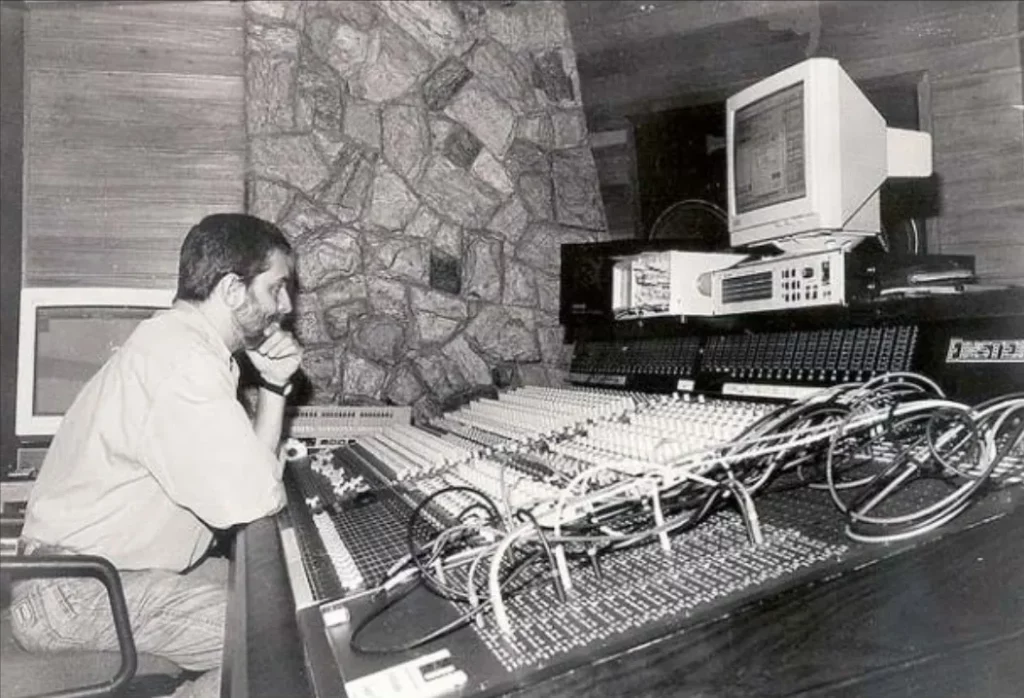 My father was a recording engineer and was involved with major record labels in Brazil from the time he graduated college until early 2011 when he passed away.
He started working as an intern at RCA straight out of college, spent many years at Odeon and then joined the EMI ranks where he worked until leaving to cofound his own independent recording studio in the early '90s.
Discover Studios was run out of a nondescript house on a quiet street in Rio de Janeiro's Jardim Botânico neighborhood. I remember it had a pool in the backyard and a kitchen staffed with a full-time cook.
I don't remember the exact details, but I think the house belonged to a Russian diplomat stationed in Rio, before it was gutted and bedrooms and living rooms gave place to control rooms, recording booths and miles of multi-colored cables.
Driven by a lack of money to buy traditional (and expensive) analog equipment and an incessant curiosity, my father and his partners embarked on a journey to start recording using a new breed of digital recording rigs.
If you know anything about recording, I'm talking circa 1994 Digidesign Pro Tools II running on Apple Macintosh Quadra 950s with a whopping 256 MB of RAM. Now imagine trying to do this pre-Internet and not speaking a lick of English.
My father — and a troupe of like-minded engineers, producers, artists and friends — flourished at Discover. Between 1994 and 2007, when the studio finally closed its doors, my father recorded everyone from Ricky Martin to Paul Simon, Brazilian heavyweights like Djavan, Chico Buarque and Tom Jobim and a wave of new Brazilian pop and rock acts, winning awards and breaking new ground when it came to creating music.
I remember going to one of the bathrooms in the studio once and passing by a room where a golden statuette — which I can only assume was an important industry award — was being used as a doorstop. For someone who was a Grammy-nominated recording engineer, he never really paid much attention to shiny objects.
I could go on with the stories, and there should be a dedicated chapter just to talk about our friend Beto Carvalho who worked at Digidesign between 1996 and 2001 and along with my father reported a record number of bugs, wrote documentation, had ideas for plug-ins and hardware, not to mention talk life, music, food and faith. Beto and my father were separated by six thousand miles between San Francisco and Rio (and some expensive phone calls too,) but somehow I always felt like Beto lived next door to us.
I ended up moving to New York City in the mid-'90s after graduating high school and helped my father as a translator when he needed to attend meetings and trade shows in the city. One of those shows was the annual Audio Engineering Society convention held at Javits Center.
I remember one year he took a detour with me right at the lobby of the convention center as we were about to walk in. Instead we ended up drinking at a nearby pub. I'm not sure if he was nervous, afraid to go in or just didn't like trade shows. He said something like, "this is all sort of bullshit anyway. I'd much rather spend time with you" or something along those lines.
We finally made it to the convention the next morning and I remember being greeted by Digidesign employees as we walked toward their booth. One of their engineers saw us, his face lit up and he said, "the wizard has arrived!" 1 as he ushered my father to check out the latest and greatest audio gear.
I remember watching the whole thing and feeling incredibly proud of him. Up until that point I guess I thought my father was just a nameless Brazilian recording engineer who was crazy (or stupid) enough to give Pro Tools a try in the '90s – without manuals or the Internet.
But that day at Javits Center I finally realized my father was one of the people who were helping propel digital recording into the future.
A lot happened after those early AES days. For one, MP3s and Napster put a squeeze on the global recording industry, CDs and cassettes became a thing of the past, and Pro Tools a household name among musicians at least, but I will never forget the day I finally realized my father was a wizard, a digital recording wizard.
(1) I guess the wizard nickname stuck, at least at Digidesign, because years later my younger brother Lucas witnessed a similar celebrity-like reception at AES. He was probably too young back then to spend that first day at the Irish pub across from the Javits Center though.